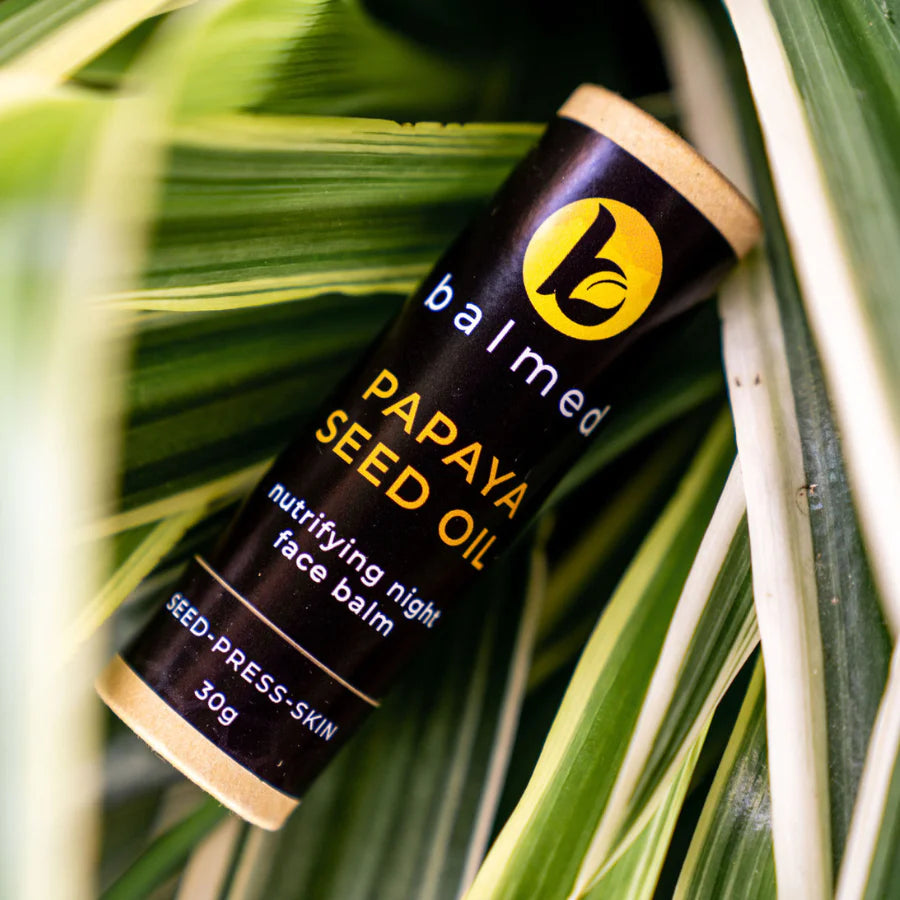 Nutrifying Papaya Night Face Balm
In stock | g
Skybury Papaya seed oil our hero in this formula.
** Australian, Locally grown and cold pressed 
This power house packed with vitamin C helps even skin tone by lightening dark spots and rejuvinating the skin.
Papaya seed oil contains a bunch of antioxidants and  vitamins, with one being Vitamin C the power house vitamin that helps even skin tone. Papaya seed oil has an enzyme called Papain, which is known for its exfoliating function. It can remove dead skin cells which assists in improving the health of your skin. It is 
an amazing source of vitamin C; 

exfoliates by helping skin cell turn over; 

and balances skin tone. 
Rubus Idaeus (Raspberry) Seed Oil 
Exceptionally high in Vitamin E; 

skin conditioning; 

plenty of Omega 3's & Omega 6's; 

light with quick skin penetration.
Ricinus Communis (Castor) Seed Oil 
*** Organic 
soothing and lubricating; 

a natural humectant promoting moisture retention;

has excellent compatibility with beeswax.
Simmondsia Chinensis (Jojojba) Seed Oil, 
*Australian grown and cold pressed 
natural moisturiser; 

is highly compatible with our own skin having the same wax esters as our sebum; 

excellent emollient with regenerative abilities;

has antibacterial properties which helps assist our own natural skin barrier protection. 
Hippophae Rhamnoides (Sea Buckthorn) seed & berry oil 
strengthens the effect of a protective barrier;

promotes firmness of the skin; 

smoothes and softens skin; 

has a high content of carotenoids giving it the effect of Vitamin A. 
The butter and waxes are formulated into the products to be  able to hold the integrity of a balm.
Mango butter gives the balms a luxurious soft texture on the skin. 
Berry Wax is natural soft wax which helps stabilise the balms. 
Beeswax holds humectant qualities so may help keep the moisture in the skin so beneficial for a protective barrier. 
Candelilla we use to hold the balm's integrity of  maintaining its form.
A successful collaboration with Melissa from B Balmed - read her story here 
---