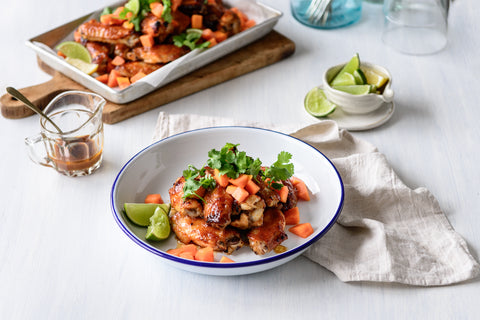 Sticky Papaya Chicken Wings
Ingredients
2kg chicken wings
2 tsp olive oil
1 cup pureed fresh papaya (250g)
¼ cup packed brown sugar (60g)
½ cup fresh orange juice (125 ml)
2 tsp fresh lime juice
1 tsp fresh grated ginger
1 tsp chilli powder or smoked paprika
1 tsp sea salt
TO GARNISH
Fresh coriander leaves
Fresh papaya
Lemon and lime wedges
Directions
Cut chicken wings into wingettes and drumettes, discard tips (or buy wings which have already been split into sections). Combine all marinade ingredients in a large bowl and mix well. Add wing sections and toss to coat.
Set wings aside for 30 mins to marinate. Preheat oven to 200°C. Line two rimmed oven trays with baking paper.
Remove wings from bowl, reserving marinade, and arrange in a single layer – skin side up – over the prepared trays.
Bake 25 – 30 minutes, basting with the remaining marinade twice during cooking. The wings are done when they are sticky and golden, and the meat separates easily when pulled.
Serve with coriander leaves, fresh papaya, and citrus wedges.
---