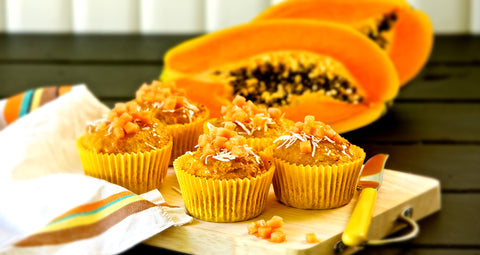 Papaya and Coconut Muffins
Ingredients
2 cups wholemeal self-raising flour
½ cup shredded coconut, plus extra to top muffins
1 cup papaya, peeled, deseeded and mashed
¼ cup papaya, peeled, deseeded and finely diced (for decoration)
1 large egg, whisked
2 tbsp butter
½ cup honey
Directions
Pre-heat oven to 180oC.

Over a low heat, heat butter on stove until melted. Allow to cool.

Combine flour and coconut in a large bowl and mix.

In a separate bowl, combine mashed papaya, egg, melted butter, honey and mix well. Add papaya mixture to flour and coconut bowl and mix well.

Place muffin cases into a standard muffin tin and spoon a heaped tablespoon of mixture into each one.

Bake for 20 minutes or until a skewer inserted into the middle comes out clean.

Cool for 10 minutes before removing from the muffin tin.

Top with extra shredded coconut and finely diced papaya.
---