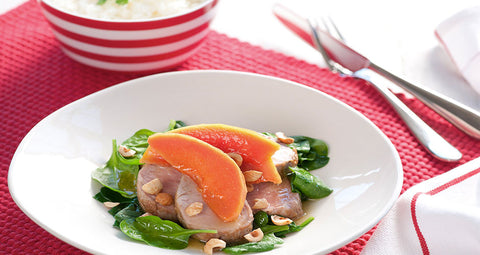 Pork Fillet with Buttered Honeyed Papaya
Ingredients
750g pork fillet
½ papaya, skin removed and cut into 5cm-length wedges
20g butter
3tbsp lime juice
1tbsp honey
1tbsp toasted hazelnuts, roughly crushed
Pinch of Salt and Pepper
Directions
Preheat oven to 220C.
Season pork fillet with salt and pepper.
In a pan, heat oil and sear pork until brown on all sides. Transfer to the oven and roast for 7 minutes (or cooked to your liking). Rest fillet for 5 minutes.
In another saucepan, melt butter then add papaya, lime juice and honey. Allow to simmer for 3 minutes.
To serve, slice pork fillet and place on a bed of wilted spinach. Pour over papaya dressing and sprinkle with crushed hazelnuts.

---